Train To Become A Locksmith – A Recession-Proof Career By Locksmith Santa Monica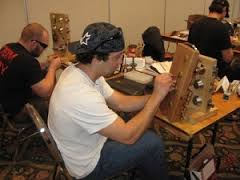 Keeping our loved ones safe and our property secure has always been a top priority but post-9/11, security has taken on an even greater importance whether at home, at work, at school or at play. And while the recession continues to affect many industries with thousands being laid off, as a locksmith you are more or less guaranteed a steady income irrespective of the economic state of the nation – the only determining factor is how hard you want to work. Demand is always there because inevitably people will get locked out of their properties, cars and businesses, and similarly, locks will need to be renewed either because they have become worn or in order to comply with new insurance regulations and safety protocols. As a certified locksmith you can literally open the door to a brighter future, unlock superior earnings potential and enjoy the security that comes from having a regular income.
Why Become A Locksmith?
EXCELLENT CAREER OPPORTUNITIES
Locksmithing is a service industry which is growing.  People will always require help in the event of an emergency and advice with their security needs day-to-day.  Unlike other professions which can suffer during an economic down-turn, locksmithing is virtually recession-proof.
FREEDOM & FLEXIBILITY
As your own boss, you determine the hours you want to work and the areas in which you decide to specialize.   You can choose to update your skills through an ongoing programme of training to offer an even wider range of services, with income to match.
UNLIMITED EARNINGS POTENTIAL
Depending on your location, the hours you are prepared to work and your commitment to the profession, you can reap substantial rewards.  Locksmithing can also provide an excellent part-time or retirement income.
HIGH PROFITABILITY
Few professions offer such high earnings so quickly after training coupled with such low outlay.  Some training programs are structured so that you can begin to "earn as you learn", even before you have completed the course.
TRANSFERABLE SKILLS
Once qualified, you need no longer be tied to one location – your job can move with you.  With locksmithing, you are virtually guaranteed to find work wherever you choose to be, even overseas.
REWARDING CAREER
As a locksmith, no two days are the same.   Each day brings fresh challenges and the satisfaction that comes with having helped people, often in difficult situations.   As you develop your skills, the more experienced and efficient you will become enabling you to take on more work and increase your income.
For further information please visit The Associated Locksmiths of America (http://www.aloa.org) for advice on training and certification.
Assured Locksmith Training (http://www.assuredlocksmithtraining.com) offers a comprehensive, ALOA-recognized on line program run by professional locksmiths and is geared towards helping applicants become certified in as little as two months.  As well as teaching the mechanics of locksmithing, the course also covers the practicalities of running your own business from planning, selling your services, maintaining an inventory, customer service and advertising, all based on proven methods used by the experts.
Assured Locksmith Training also provides the most up-to-date Automotive Locksmith Training program available, enabling you to capitalize on this highly profitable sector.  Assured Locksmith Training is the industry leader when it comes to training security professionals; its Maintenance Locksmith Training program covers all aspects of security and is aimed at building maintenance and engineering personnel, enabling businesses to have their own on-site locksmith professional.
Locksmith Santa Monica (310) 409-2554