Lock ReKey By Locksmith Santa Monica
Have you misplaced your keys and given them up for either lost or stolen? Did you entrust your key to someone who is no longer trustworthy?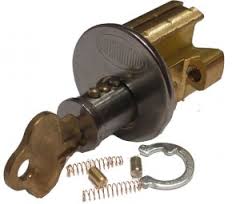 Has your roommate moved out and neglected to return their key? You don't have to dread the time and expense of having to change the locks on your doors due to any of these situations.
It's not always necessary to replace the entire lock system. Our professional locksmiths can rekey your locks for a fraction of the cost of installing an entirely new lock sytem.
The process of rekeying a lock involves changing the interior tumblers inside the lock to a different size which will no longer accept the original key set. You will receive a new set of keys from the locksmith and the rekeying process will eliminate any worry that old keys that are floating around for this lock will be used to compromise your safety or security.
You may also want to rekey all the locks in your home to respond to one master key rather than having to fumble with numerous keys on your keychain, each of which is needed to open a different lock. You will love the convenience of having all of your locks respond to one master key. Before you decide to replace the entire lock, have a member of our locksmith team check to see if your system can be rekeyed at a savings of time and money for you.
Locksmith Santa Monica (310) 409-2554