How an Auto Locksmith Works By Locksmith Santa Monica
An auto locksmith is a specialized individual within the locksmith industry. These individuals specialize and focus only on opening locked cars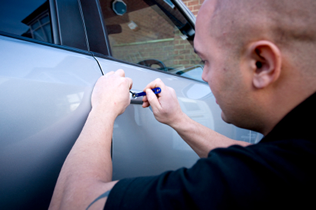 or creating new keys for vehicles. Unlike other locksmiths, auto locksmiths use special decoding machinery in order to complete their work. This is because new vehicles from the mid-1990s to current have keying systems that work differently from older vehicles. These cars use electronic system, which only a qualified and specialized auto locksmith can change.
These modern systems use a key that has a transponder code embedded. These keys are known as transponder keys. When the key is inserted into the ignition, the code is read and the car can only be started when the correct code is read. This new system was designed to minimize or even completely stop the incident of hot wiring vehicles.
Auto locksmiths have special decoding machines that find the specific code needed to open the door of your car. With this code, the auto locksmith is able to reprogram a new transponder key that will be able to open your car doors or start your ignition. This is often more efficient than manually opening a car and it is certainly a faster option. Often an auto locksmith can have your car unlocked in just five minutes.
If you find yourself locked out of your car then there are plenty of professional auto locksmiths to choose from. You can always find an auto locksmith in your area so you want to be careful when choosing one. Make sure they have the expertise and knowledge necessary to get you into your car.
Locksmith Santa Monica (310) 409-2554