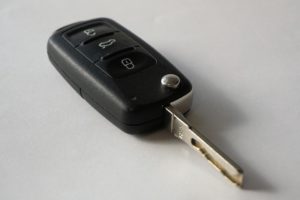 Transponder Keys are essential to the modern car owner's arsenal. Indeed, they make it so much easier to access your car without having to turn the key in the keyhole.  The transponder key comes with a microchip that is put in the upper plastic part of the key. This technology comes in all shapes and forms, but essentially, there are two types of transponder keys: a zero bitten transponder key and an encrypted key. A zero bitten key is designed to be cloned as it has no inscription, or preset values, that come with the key. An encrypted key comes with a preset encryption code and cannot be duplicated.
In either case, a professional, such as a locksmith, can clone or reprogram a new key fob for you in minutes and save you oodles of time.
Immobilizers and Transponder Keys
Many new cars now come with 'immobilizers'- units in a car that detect radio signals from transponder keys or fobs. When this immobilizer stops recognizing your key fob's unique signal, you will need a replacement to start your car again. This is one of the reasons why key fobs cost so much to duplicate these days.
On a related note, you may need to repair or reprogram your transponder key for whatever reason. Here are some of those reasons:
Your key was stolen
The transponder signal no longer matches the car's onboard computer signal
The key broke in the ignition
The key glitches or does not function properly
Having a properly functioning transponder key is everything with modern cars today. Should any problems occur, it is absolutely essential that you get a professional on the line. Take a locksmith, for example. A locksmith can help you find your keys, make perfect duplicates in minutes, and fix or repair your car's ignition.
The more you know about your particular situation, the faster we can fix your key or reprogram it. A professional locksmith can reprogram a key in a matter of minutes. It only requires us to jot down your VIN (Vehicle Identification Number) and you'll be on the road in no time.
Go To The Pros At Payless Locksmith Santa Monica
If you need to get your transponder key working again, avoid the hassle of doing it yourself- go to the pros instead. Payless Locksmith Santa Monica is the most reliable provider of Transponder Key Services in the LA basin. Our technicians are fully trained and capable of handling the most broken key fob in your possession. Our quick efforts and meticulous attention to detail have won us several awards in the locksmith trade to date. Therefore, call us at (310) 409-2554 to get awesome transponder key service, to reprogram your transponder key instantly and without fuss. Call today.