LOCKSMITH TOOLS – SANTA MONICA LOCKSMITH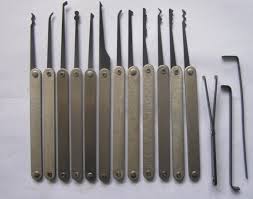 Every locksmith should own their own toolset that they use to deal with everyday locks. A locksmith needs a set of tools to tackle tough lockouts, auto car lockouts, even working on car ignition systems when a key is jammed inside. A locksmiths tools must be up to date and in good conditions. Lets look more in depth on the specific tools that a locksmith uses.
Professional Lock Picking Tools– Locksmiths heavily rely on these tools to get them through very difficult jobs. Lock picking tools include a complete set of tension wrenches that are designed specifically to fit each set of unique locks. Each tool is custom tailored to pick through all types of vehicle door locks without any problems.
Slim Jims– These tools are designed to unlock car doors without the use of a key. Professional locksmiths use these tools on a daily basis. The slim jim is placed between the window and rubber coating to carefully unlock the door.
Key Duplication Machniery– Complex and custom built key duplication machinery is what every known locksmith carries in their trucks. This particular machinery is used to build brand new car keys or house keys within minutes. Locksmiths also carry laser key cutting machinery to match the existing key copy with a new one.
Bolt Cutter– Ideal for cutting locks that have been jammed. Bolt cutters come in handy when you need to open a padlock or a chain to access your garage doors or closed property. Locksmiths use these tools with extreme care, since they can damage items as well.
Each Locksmith Tool Serves a Purpose
As you can see, there are many various tools that a locksmith uses each day. Locksmiths usually carry a belt with various wrenches, lock picking devices and power tools. A tension wrench might be the only object used in a lock picking situation, while a full set of drills and extensions might be used to install a home alarm system. Locksmiths use the tools every day and will be able to determine the best tool suited for your specific situation. A locksmith will usually never leave his vehicle without his set of tools. Creating keys requires precision and skill, so you need a good locksmith to create a quality key, give us a call today!
Contact Locksmith Santa Monica for Expert Lockout Coverage
Santa Monica lock is the most relied on locksmith in all of Los Angeles, our veteran locksmiths have decades of experience in the locksmith field and if they cant do the job for you, no one can. Count on our 24/7 roadside specialists for all of your locksmith needs and give us a call for any security services you might need.
Locksmith Santa Monica (310) 409-2554